Opening night reception is sponsored by:
---
Sobre la Obra
Milagro presenta la obra ganadora del premio Henry 2008 a mejor obra original. La obra cuenta la historia de una pequeña joven, Ceci, que queda discapacitada después de un trágico accidente, y su cuidadora, Lydia, quién es la única persona con la que Ceci se puede comunicar. Una obra con una temática de familia, cargada de sentimientos, secretos y realismo mágico.
Contains strong adult language and nudity.
The run time for this show is 2 hours plus a 15 minute intermission.
---
Escritor de teatro

Octavio Solís es un escritor y director de teatro. Muchas de sus obras como Alicia's Miracle, Se Llama Cristina, John Steinbeck's The Pastures of Heaven, Ghosts of the River, Quixote, Lydia, June in a Box, Lethe, Marfa Lights, Gibraltar, The Ballad of Pancho and Lucy, The 7 Visions of Encarnación, Bethlehem, Dreamlandia, El Otro, Man of the Flesh, Prospect, El Paso Blue, Santos & Santos, y La Posada Mágica han sido producidas en muchos teatros como el California Shakespeare Theatre, el Mark Taper Forum, el Yale Repertory Theatre, el Oregon Shakespeare Festival, el Denver Center for the Performing Arts, el Dallas Theater Center, el Magic Theatre, el Intersection for the Arts, el  South Coast Repertory Theatre, el San Diego Repertory Theatre, el San Jose Repertory Theatre, la Shadowlight Productions, el Venture Theatre in Philadelphia, el Latino Chicago Theatre Company, el Boston Court and Kitchen Dog Theatre, el New York Summer Play Festival, el Teatro Vista in Chicago, El Teatro Campesino, el Undermain Theatre en Dallas, el Thick Description, el Campo Santo, el Imua Theatre Company en New York, y el Cornerstone Theatre. Algunos de sus otros proyectos son Cloudlands, con música de Adam Gwon; Burning Dreams, escrita en colaboración con Julie Hebert y Gina Leishman; y Shiner, escrita en colaboración con Erik Ehn. Además Solis ha recibido los siguientes premios y becas: NEA 1995-97 Playwriting Fellowship, el Roger L. Stevens award del Kennedy Center, el Will Glickman Playwright Award, una beca de producción del Kennedy Center Fund for New American Plays, el 1998 TCG/NEA Theatre Artists in Residence Grant, el 1998 McKnight Fellowship grant from the Playwrights Center in Minneapolis, y el National Latino Playwriting Award en el 2003.
---
Director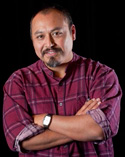 Kinan Valdez ha sido un miembro del elenco de El Teatro Campesino (ETC) por veinte años. Él nació y se crio en el ambiente colectivo de la reconocida compañía de teatro ETC, famosa por su  enfoque en temas de  justicia social. Actualmente, Kinan es el director artístico de la compañía. Sus logros como líder de la compañía, la cual ha existido por 49 años, se han regido por tres objetivos principales: preservar las tradiciones y metodologías teatrales de El Teatro Campesino para que las nuevas generaciones puedan accederlas; desarrollar el "Teatro Lab" como un espacio de laboratorio para crear nuevas obras experimentales; y construir un programa de teatro educativo móvil para poder llegar hasta las comunidades marginadas de las zonas rurales de California central.