Special Events:
Conversation with the cast and members of the creative team immediately following the 2PM matinee, and a free portrait drawing workshop to follow in the cafe.
Mijita Fridita Study Guide (English)
Mijita Fridita Study Guide (Spanish)
---
Sobre la Obra
En medio de la revolución mexicana, la joven Fridita, quién disfruta de su infancia en la casa azul de su familia en Coyoacán es diagnosticada con polio. Encamada, Fridita escapa al mundo de su imaginación, dónde conoce a otra niña que luce igual a ella, y juntas emprenden un viaje al centro del mundo de camino hacia una fiesta con todos los personajes de su imaginación. Mientras tanto en el mundo real, los otros niños se burlan de ella por ser diferente, pero su padre Guillermo la motiva y despierta su interés en el arte con su propio amor por la fotografía. Fuerte y resistente, Fridita aprende a superar sus obstáculos y a ser sí misma para así volverse la legendaria artista que continúa inspirando a muchos.
---
Escritor de teatro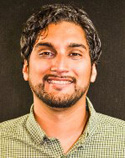 Ajai Terrazas Tripathi, originario de Corvallis, Oregon, sacó su Bachiller en Teatro en la Oregon State University. Ajai ha dirigido, y producido Stories of Discrimination, dos obras originales: The Death Rattle y The Anti-Bullying Project, las cuales fueron basadas en historias de la vida real. Este es su sétimo año con la compañía de giras de Milagro como intérprete y tallerista. Como parte de su trabajo con Milagro, Ajai redacta aplicaciones para recibir fondos, y es asistente en las áreas de desarrollo, publicidad y producción para los programas de giras y educación de Milagro, donde además asiste en el desarrollo de materiales curriculares y actividades de compromiso con la comunidad. Ajai también es un dramaturgo y recientemente escribió y dirigió la obra en gira Sueños de Fútbol, y ha actuado en las obras FRIDA, un retablo, B'aktun 13, Duende de Lorca, Cuéntame Coyote, Searching for Aztlán, y Broken Promises.
---
Directora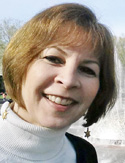 Dañel Malán, cofundó el Milagro Theatre con su esposo, José Eduardo González y en 1989 creó el programa de giras bilingüe, Teatro Milagro. La Sra. Malán investiga y desarrolla ideas y trabajos con escritores de teatro, directores, compositores y coreógrafos. Ella también ha escrito algunas obras bilingües como Cuéntame Coyote (2005, 2014), FRIDA, un retablo (2006, 2013) y Mi Vida Gitana (2006), la cual fue producida recientemente en el Reno Little Theatre in Nevada. Dañel ha compartido su trabajo curricular y sus técnicas de educación bilingüe como instructora y tallerista en varios talleres por todo el país. Malán también cofundó OYE, Opciones y Educación, una coalición latina de educación sexual, en colaboración con el departamento de salud del Multnomah County. Malán se gradúa este año con un ME en Curriculum Instruction de la Portland State University.